Insecurity is one of the big challenge we are facing in Nigeria even though the hardworking of our Gallant officers but sometimes they find it very difficult to put some situations under control.
The Insecurity in Nigeria is responsible for many things concerning the development of the nation because most times foreign investor got attracted to a country when there is assurance of good security.
It attract them to come and invest in the country which will provide job opportunities to the citizens of that particular Nation.
Riyom is a local Government in Plateau state a few kilometers to Jos the capital city of plateau state.
Report Stated the Arrest of one John Jasper Nanzing who has been parading himself as an Airforce Officer and sometimes as an Army Captain.
John Jasper was arrested at the Joint task Force (JTF) check point in Riyom LGA.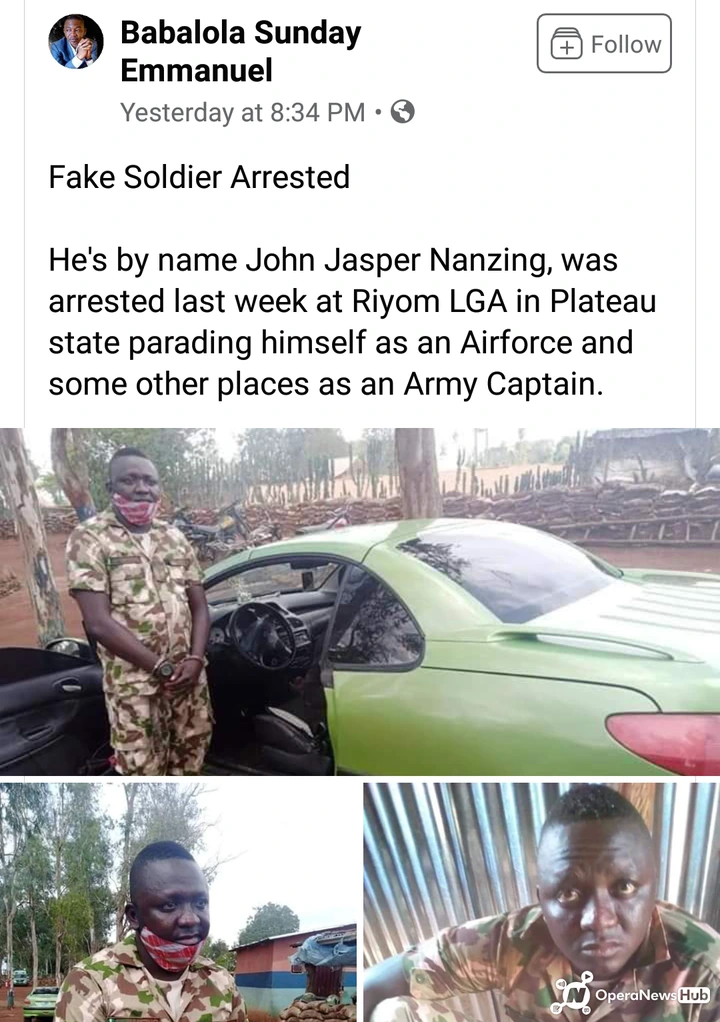 This was reported by a popular facebook handle Babalola Sunday Emmanuel he said and So I qoute:
Fake Soldier Arrested
He's by name John Jasper Nanzing, was arrested last week at Riyom LGA in Plateau state parading himself as an Airforce and some other places as an Army Captain.
John jasper has been impersonating Military officers for quit long time but was later apprehended in Riyom Local Government
The act of impersonation of military officers need a good judgement, its a punishable offence of the Highest order.
I called on our military men and other security personnel to be more vigilant concerning people like him.
May God Continue to Guide our Nation Nigeria. Amen.